Brevity Delivers High-Speed Transcode, Transport for Sports Broadcasting
By: Karen Hogan, Assistant Editor, Sports Video Group
The Sports Video Group is pleased to welcome Brevity as a platinum sponsor.
Formed in 2010 by Jacob Bronstein and Abdul Sulieman, Brevity offers technology that delivers simultaneous transcoding and highly accelerated transport of high-resolution video as an integrated process on any network. The technology is currently installed or in testing at six major networks, three postproduction houses, one professional sports team, and two studios.
"Brevity is supporting the key formats and platforms used today in sports broadcasting and adds dramatic new efficiencies in sports-related file-based workflows," says President Timothy O'Brien. "Brevity is pleased to join SVG as it focuses on reducing complexity, costs, and time across the sports-broadcast industry."
Brevity technology transforms file-based workflows through a Web-based video-management system that includes automated project-driven workflows, advanced algorithms, virtual storage, and teraflops of computing power. It shortens the time and cost associated with critical file-based workflows.
The Brevity solution was deployed during last fall's football season to simultaneously transcode and transport sports highlights from a complex legacy format to a standard, ready-to-use editing format. That file was then delivered directly back to a leading playout system in the proper format, without redundant ingest.
"Joining SVG was a no-brainer for us," says CEO Jacob Bronstein. "Many of our clients work in sports so it was only natural to become part of an organization that has such an established presence in the industry."
Brevity's patent-pending advanced algorithms provide highly accelerated speeds on transport and transcode for bit-for-bit lossless or visually lossless video that has been successfully used for HD sports broadcast. Brevity combines advanced compression with teraflops of computing power enabled by graphical-processing-unit video routers.
Since the NAB Show in April, Brevity has been actively following up on a number of strategic deployments.
Brevity Speeds Video Delivery
By George Winslow , Broadcasting & Cable
Its V3 technologies are being tested at six major channels

As producers and programmers struggle with the difficulties of moving large HD video files between production sites or between facilities, a New York City-based start-up, Brevity, is getting some significant traction with a new solution that offers much faster transport of high resolution video by using technologies that allow for simultaneous transport and transcoding.

Improvements in delivery times using Brevity's V3 technology vary with formats and the type of algorithm but one of V3's core algorithms, Data Warp, offers speed improvements of two to eight times faster while a second, Image Warp, offers up to 30 times faster speeds than previously seen, argues Brevity CEO and co-founder Jake Bronstein.

Those improvement have also caught the eye of a number of TV players, including six major networks and channels, two studios, three post-production facility and one major sports team that have either deployed or are testing the solution, adds Bronstein.

Unlike traditional compression, which typically sacrifices quality for speed, V3 works under what COO, Tim O'Brien calls "a new concept in technology that some are calling network coding."

That means their solution essentially "models or creates a blueprint set of instructions" that are sent across the network that allows the technology at the other end where another unit "rebuilds the video," he says.

This allows multiple formats to be sent simultaneously so that significant time is not wasted transcoding the video. "It can come out in multiple formats that don't require another step at the other side," O'Brien notes.

Most clients who have tested or deployed the product have not been willing as yet to have their names used, but Brevity has announced a deployment with a major New York City post-production house, the Creative Group.

"The ability to provide simultaneous transport and transcode enables us to offer our clients significant improvements in file-based workflow…while ensuring very high quality," noted Joe Avallone, president of the Creative Group, who also called the technology "a game changer" in a statement.

It has also partnered with the production service company Tranzxl, which is renting Brevity's units at Tranzxl's New York and L.A. facilities to clients for specific projects.
Creative Group implements Brevity transcoding solution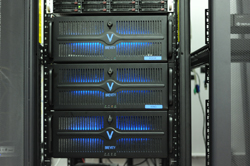 NEW YORK – Brevity (www.brevityv.com), which has designed a new media transcoding, transfer, storage management and collaboration platform, recently made a sale to international post house Creative Group. Since last Fall, Creative Group has deployed Brevity's V2 solution, seeing workflow gains for transport and transcode of sports highlights, TV programs and promotions of HD content. Brevity recently introduced V3 of the solution at NAB.
"The ability to provide simultaneous transport and transcode enables us to offer our clients significant improvements in file-based workflow, shortening turnaround time and driving production efficiencies while ensuring very high quality," explains Creative Group president Joe Avallone.
At the NAB show in April, Brevity debuted V3 for the first time. The latest version delivers simultaneous transcoding and highly accelerated transport of high-resolution video as an integrated process on any network. V3 delivers this through a Web-based enterprise video management solution.
"Our goal is to eliminate many of the commercial, creative and technology challenges associated with management and distribution of diverse media files and formats," explains Jake Bronstein, CEO, Brevity. "Creative Group was one of the first to implement Brevity, to really understand how they could create a fundamental workflow change, and we can't be happier with the impact it's had for them and their clients."
Edison's electric light did not come about from the continuous improvement of the candle.
The power of Brevity on Canon DSLR HD workflow
Do you use Canon DSLRs on your HD workflow? Are you spending hours importing footage into Avid or FinalCut for editing?

TranzXL, our service bureau partner had to transcode, transport and import 48 raw camera files from Canon 5D, 7D, and  60D cameras; a total of 9.4GB in 88 minutes of footage.
Utilizing an high-speed data transfer protocol to move the 9.4GB from location to post facility on a 20 Mbps connection, the transfer took 1 hour and 10 minutes.
Utilizing Avid Import to DNX115 MXF 24p on the Avid editing workstation, the import took 2 hours and 27 minutes.
Utilizing FCP log & transfer to import to ProRes 4:2:2, the process took 1hour and 42 minutes.
Utilizing the multi-transcode and accelerated data transfer power of Brevity, the process of transporting these 48 files between two locations over a 20 mpbs WAN, and simultaneous transcoding on the edge to ProRes 4:2:2  and DNX115 MXF 24p was completed in 1 hour and 24 minutes.
ScoreCard
Without Brevity
5 hours 19 minutes, multiple steps, multiple operators and manual operations.
With Brevity:
1 hour 24 minutes, all automated workflow, one person and one button click.
In summary, transport the files to their destination and transcode them to two editing formats in less time that it will take you to just transcode to one format!
Brevity - UI walktrough (Project collaboration and workflow automation, with highly accelerated multi-point transport, and simultaneous multi-format transcoding.
Brevity - Core technology
Brevity: True Cloud Collaboration
The enterprise is back. For the last few years all the noise has been on the consumer side. I believe that a lot of new disruptive technologies are innovating how large organizations procure and manage their IT infrastructure.
Brevity FAQ #4
Question: Does Brevity have the ability to run a transmission on the same network as other video WAN Optimization transport companies?
Answer: Yes, but Brevity must be allocated a percentage of the pipe. Brevity provides tools to manage allocation of bandwidth to ensure that proper network usage is maintained.
Question: What extra functionality does Brevity offer for transcoding?
Answer: Brevity has extensive functionality for all transcoding requirements. Brevity offers de-interlacing, audio remapping, scaling, cropping, HD to SD down conversion, standards conversion, frame rate conversion, and much more. If your company has a complex transcoding requirement or workflow, Brevity can provide custom profiles or integrated Application Programming Interface (API) functions to integrate processes.
Question: Can Brevity be accessed from mobile devices such as smartphones and tablet computers?
Answer: Yes, Brevity fully supports any devices that use HTML5 including tablets, phones, and all laptops with modern browsers.
Question: Can a file transfer be initiated from a mobile device? Can the file itself be viewed on a mobile device?
Answer: Yes, you have full access to the system's tools on all mobile devices. Although you cannot view an original file from mobile devices, you will have full access to move and send files. We are in the process of developing a way to preview low-resolution videos from your mobile devices.
Question: How does Brevity protect security using a mobile device?
Answer: The Brevity security model is the same across all access points. On your mobile device all communication is fully encrypted 4096 bit level SSL during transport and storage, requires live two-way handshaking and authentication, and the V3 project management structure allows granular control of who has access to what assets. In addition, no usable video is transmitted outside of the LAN – the proprietary Image Warp format requires Brevity software and hardware to rebuild.
Question: Does Brevity provide deployment and training?
Answer: Yes, Brevity provides full deployment and training based on the scope of the engagement. There is an initial set-up fee to cover these activities.